Telefon:
(+35) 8407796223
E-post:
Nettside: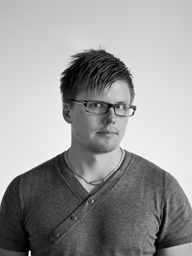 Design is not just about making beautiful things. Design is about understanding nature, changes, human behaviour, culture and humanity in a context that is in a constant state of flux. For me design is long-lasting and surprising. It possesses quality, style and simplicity whose ultimate goal is better life. I work with a sense of material trying to offer smart solutions. I love to create with a strong passion for style and high quality experiences. I ´am a third year exchange student in Oslo at the National Academy of Arts. I´am permanently studying in Lahti Institute of Design, Finland.
"Open social environment"
As a common thread in my project is flexible layout plan for different kind of social events and ceremonies. My aim was to create an inviting and open atmosphere in the heart of "Ammerud hjemmet" with sense of harmonical experience. Open social environment, as I call my project, is a gate between earth and heaven. It´s a space for everyone´s fundamental human needs* in a sweet and safe embrace of "Ammerud hjemmet".
*defined according Max-Neef are subsistence, protection, affection, understanding, participation, leisure, creation, identity and freedom.